Join Date: Oct 2007
Posts: 2,438
2009 Cheverolet Corvette ZR1
---
2009 Cheverolet Corvette ZR1
Sold for:
$1 million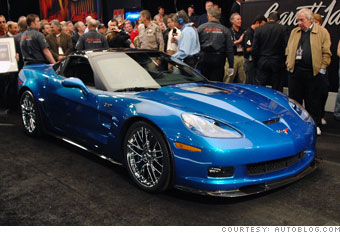 The right to purchase the first "retailable" 2009 Chevrolet Corvette ZR1 built was auctioned off for an even million at the 2008 Barrett-Jackson auction in Scottsdale, Ariz. Saturday.
Production of the 2009 ZR1 is expected to begin this summer. Sticker prices will be about $100,000. The Corvette ZR1 will be equipped with a supercharged 6.2-liter V8 engine producing at least 620 horsepower.
The car shown here is a preproduction vehicle, not the car that will ultimately be sold.
All proceeds of the sale will be donated to the United Way.
The following first off the line cars were auctioned at Barret Jackson this weekend and sold for....
09 Corvette ZR1: 1MIL
09 Dodge Challenger: 400K
08 Shelby GT500KR Mustang: 500K
these fuckers are crazy, don't they know that if they waited a couple more months they could have gotten the same cars for alot less
http://money.cnn.com/galleries/2008/...son/index.html
***edited***
oops... I missed this line... nevermind...
Quote:
All proceeds of the sale will be donated to the United Way.
mod impersonator
Join Date: Oct 2007
Location: Eau Claire,WI
Posts: 3,221
talk about exclusivity and collectability...those cars will never be diven, they well be in a showroom with a sign that says "the first"
---
Im not gonna get laid standing around here, there are not enough gay people here!
TEAM: NO FAST NO LEAN
Administrator
Join Date: Oct 2007
Location: California
Posts: 4,770
mod impersonator
Join Date: Oct 2007
Location: Eau Claire,WI
Posts: 3,221
it definetly is a sick ass car
---
Im not gonna get laid standing around here, there are not enough gay people here!
TEAM: NO FAST NO LEAN
Join Date: Jan 2008
Posts: 40
Quote:
these fuckers are crazy, don't they know that if they waited a couple more months they could have gotten the same cars for alot less
http://money.cnn.com/galleries/2008/...son/index.html
well being that its car number 1 i will be a collector car like stated already. plus i believe there making less then 3000 of these cars. the msrp may be 100k but you have to add in dealer mark up not that it will be a million but im sure be more then 100k