Join Date: Oct 2007
Posts: 30
Quote:
Nice!!! More pics of the Warrior...and a list of mods.
MODS are you sure you want me to use up that much server space?
Just a few I can recall (all performed by my own hands)....
Body:
-Stretched gas tank (metal)
-Modified stock rear fender. Added valence to the sides and welded internal supports (so the fender appears to hang there).
-Tucked the factory rear taillight to fit flush with fender.
-R1 front fender
-Designed and locally made carbon fiber dash panels.
-Yamaha chin spoiler(with mesh insert) and mini fairing.
-My paint job.
-powdercoated; rocker boxes, pushrod tubes, and oil lines
-Sanded and polished engine cooling fins.
Accessories:
-Performance Machine billet forward controls (w/custom made billet frame mounts)
-OMP hand controls with momentary switches, grips, throttle housing and Rebuffini mirrors. (required custom wiring)
-Locally made SS brake lines front and rear.
-Integrated tag bracket with turn signals. (billet)
-SS braided throttle cable (single)
-Yamaha billet engine cover accessories all stripped of chrome and powdercoated
Chassis and Brake components:
-04 R1 forks, front calipers, and rotors.
-03 R6 front wheel
-03 R6 rear wheel resized and widened by Kossman Specialties to 18x8.5 w/a 240 Metzler rear tire.
-modified and re-welded stock rear swingarm to allow 18 x240 tire.
-03 R1 rear brake caliper (inverted) w/ 04 R1 rotor. I machined the caliper bracket on a bridgeport vertical lathe.
Engine performance:
-Installed a 2002 full speedstar performance kit. Parts included, Kit ECU, high flow injectors and fuel pressure regulator, High compression pistons, high lift cams, and a performance exhaust system (which I raffeled off).
-ported and polished heads with +2mm intake and exhaust valves.
-Barnett clutch carbon fiber clutch plates and billet clutch diaphragm.
-transmission upgraded to include a lower ratio 5th gear.
Stock performance:
approximately 78hp and 99 tq.
After modifications:
Measured: 102 hp and 114 tq.
Hours of fabrcation: more than WickedR1 or J$ have spent on a web site in a month.
APPALACHIAN-AMERICAN
Join Date: Oct 2007
Location: Flint Town
Posts: 2,173
Damn Bro, I knew your bike was hooked up, but had no idea you had that much into it. Great work!!
Makes me want to go out and get a warrior....
Join Date: Oct 2007
Posts: 256
Join Date: Oct 2007
Posts: 2,438
4rum OG #8
Join Date: Oct 2007
Posts: 508
Join Date: Oct 2007
Posts: 30
Thanks guys. It was a 3+ year process. I started the body modifications after I dumped the bike hot-dogging it with my friends on their sportbikes. If I had more clearance I would have completed the turn...
As time progressed I did the motor work next, then moved onto the suspension components and R6 wheels. The rear wheel isn't a direct fit and I had to machine parts to get the hub to accept the smaller Warrior bearings and axle. The caliper bracket serves two roles as well. It holds the caliper inverted (which normally is straight up) and also makes up for the spacing lost in the narrower hub on the R6 wheel. This wheel was run for a year before I had it resized to make sure there would be no premature wear or bearing issues.
2.5 years after I installed these wheels on my Warrior, Yamaha introduced the 5 spoke design for the Warrior. Was it a coincidence that Yamaha engineers were taking photos of my bike when I rolled this out in Daytona in March of 04???
Fast forward:
I sold the bike for 12k in June 05 and bought my R1 with the money from the sale.
This past March I traded out my R1 (bone stock) with 16k miles on it for the remains of this bike and another 1700.00 cash. I was asking 7k for my R1 when I traded out with the aforementioned pruchaser of my Warrior. He basically lost 6300.00 in 21 months. (I paid 9750 for my R1 new)
Since my crash on the track in April it has been torn down and not running. Although it was running when I got it, I just couldn't bring myself to ride it, as the previous owner left in such a state of disrepair that I was emarrassed to ride it. As I've healed up, slowly I'm refinishing the bike and as of tonite I just completed the build up of the motor and installed in the frame to give it a run.
She purrs like a kitten!
Haven't painted the frame yet so the installation is a Quick and dirty install so I can remove it once I'm ready to paint the frame.
---
Last edited by JPWarrior; 11-03-2007 at

08:59 PM

.
Administrator
Join Date: Oct 2007
Location: California
Posts: 4,775
WOW, that's a sweet bike....
Join Date: Oct 2007
Posts: 30
Here she is now. A work in progress...
looks like something out of a sci-fi movie....LOVE all the black. very clean.
---
APPALACHIAN-AMERICAN
Join Date: Oct 2007
Location: Flint Town
Posts: 2,173
Easily the best looking V-Twin Engine on the market IMHO.
02 warrior
---
Quote:
I almost feel like Bogie for posting these pics over and over of my Warrior!
Here\'s mine!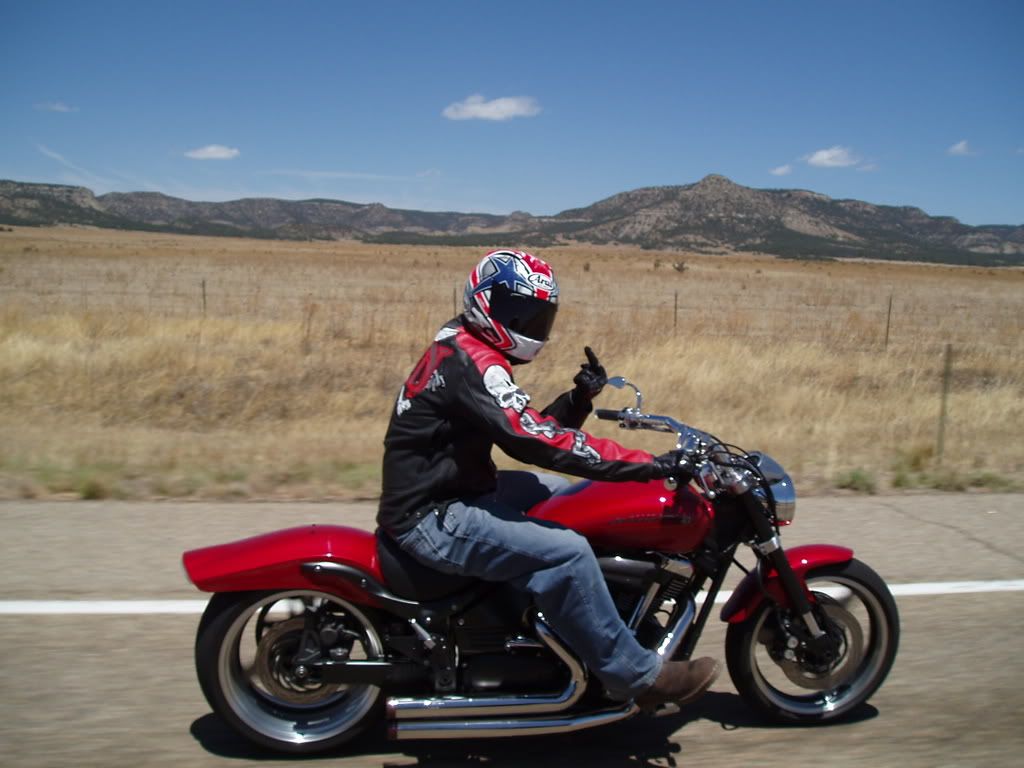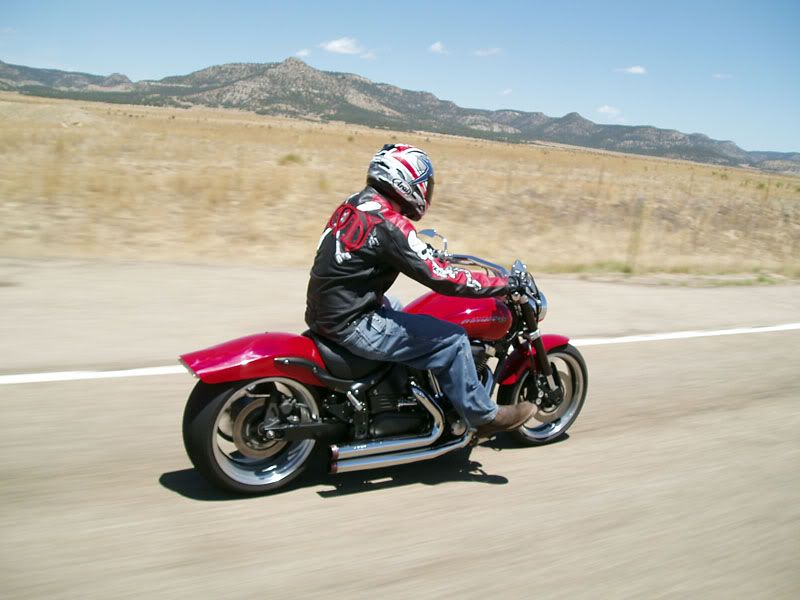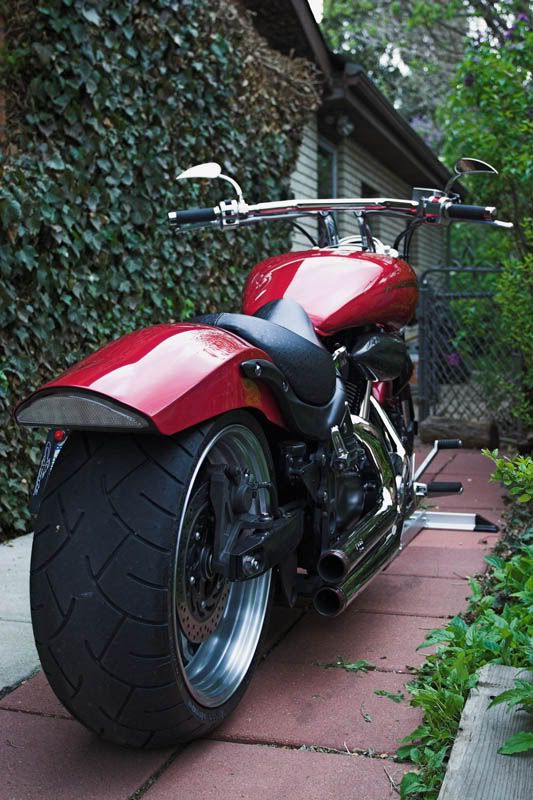 SWEET lookin bike. Are those the stock handle bars ?
Junior Member
Join Date: Jan 2012
Posts: 3
custom license plate mounts and side covers
---
Hey guys we make cool stuff for the warrior and raider.
pineda's metal custom designs